Historical Facts - Mornington Peninsula
The Duel - Cape Schanck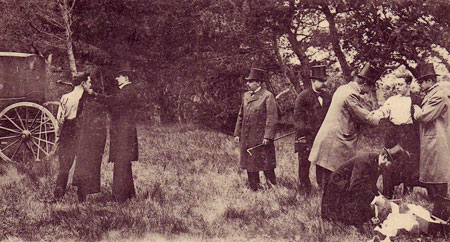 The practice of pistol dueling was stopped in Victoria around 1850
In the early 1840's, the southern part of the Mornington Peninsula was held as large runs with John and Dr Edward Barker at Cape Schanck, William Hobson at Tootgarook and Maurice Meyrick at Boniyong (Boneo).
In 1842 John Barker had returned to England and his brother Dr Edward Barker took over the running of their land Barrabang. Edward Barker was a surgeon who gave up medicine for the land but later returned to be on the surgical staff at Melbourne Hospital.
It was while his brother John was in England that a disagreement between Edward Barker and Maurice Meyrick led to a pistol duel, which took place on one of the 'cups' near the turn off to the present Cape Schanck Lighthouse.
It appears that some of Barker's men had removed either sand or wattle bark from Desailly's waterhole. A furious argument started between Desailly, who was employed by both William Hobson and Maurice Meyrick, and Edward Barker. Somehow Maurice Meyricks became involved and challenged Edward Barker to a pistol duel, the second known to be fought in Victoria.
On the eventful day both parties were nervous and secretly wished that the whole affair could be called off, but the 'seconds', more eager than the participants, eventually managed to get them lined up.
Meyrick fired first, his ball whistling past Barkers ear. Barker got such a fright he fired into the air, and, as the story has it, hit a passing seagull while in full flight!
All agreed that honour was satisfied, and went off to celebrated at Merck's house.