Historical Facts - Mornington Peninsula
The Mysterious Disappearance of Prime Minister Harold Holt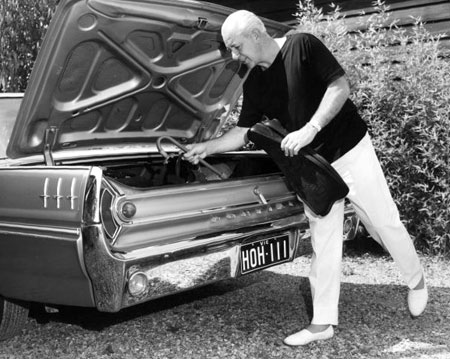 Prime Minister Harold Holt before his disappearance at Cheviot Beach in 1967
Mystery, intrigue and rumours surround the disappearance of Australian Prime Minister Harold Holt on the Mornington Peninsula.
On 17th December 1967, Prime Minister Harold Holt disappeared, presumed drowned while swimming at Cheviot Beach which is part of the Point Nepean National Park on the Mornington Peninsula.
Mr. Holt, aged 59, departed Canberra on Friday 15th December and flew to Melbourne in a RAAF VIP aircraft and later drove his maroon Pontiac Parisienne to Portsea on the Mornington Peninsula for a relaxing weekend at his family home. Despite the growing controversy of the Vietnam War, Holt did not feel the need to surround himself with security guards. Zara his wife, stayed behind in Canberra.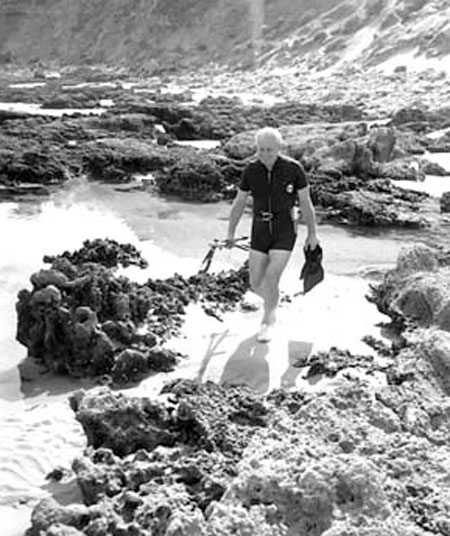 Prime Minister Harold Holt spear fishing at Cheviot beach
It is believed Holt played tennis and relaxed with friends throughout Saturday. On Sunday morning 17 December 1967 he and a neighbour, Marjorie Gillespie, went to Point Nepean to watched the lone English yachtsman Sir Alec Rose sail through Port Philip Bay Heads on his return journey to England. They were followed in a second car by Alan Stewart with Gillespie's daughter Vyner, 20 and her friend, Robert Simpson, 19. Despite the blustery, muggy conditions Holt wanted to swim at the private, exposed ocean at Cheviot Beach, rather than at one of the more protected beaches in the bay. Holt changed into his swimming trunks and entered the surf shortly after midday. Witnesses claim they saw Holt swimming out to sea when turbulent water suddenly built up around him and he disappeared. They called for help and one of Australia's largest search and rescue operations was mounted. By nightfall approximately 190 people were searching for the prime minister. He was officially presumed dead on 19th December 1967. The search was scaled down on 22nd December and officially terminated on 5 January 1968. Holt's body was never found.

RAAF Helicopter involved in the search for Prime Minister Harold Holt at Cheviot Beach

There were many rumours surrounding Holt's death. One is that he had committed suicide. Another claims he faked his own death in order to run away with his mistress. Ross Coulthart a Reporter for the Nine Network Australia told of a man who claimed to be a former spook for the Australian Government who claimed he helped Holt return to Australia several times since his disappearance. He travelled incognito from his home in France. It is claimed that Holt swam around to the next bay, hopped in a car driven by a lover, and slipped out of the country. The spook claimed that Holt subsequently died of a heart attack in the south of France sometime during the 1980s.
Other theories had the CIA assassinate Holt because he wanted to withdraw Australian troops from the Vietnamese war. Yet another came in 1983 when British author Anthony Grey published a book claiming that Holt was a Chinese spy and had been picked up by a Chinese submarine off Portsea and taken to China.
The most likely scenario was that Holt was caught in a strong rip off Cheviot Beach and was swept out to sea and drowned. In 1969 a plaque commemorating Holt was bolted to the sea floor off Cheviot Beach after a memorial ceremony. It bears the inscription: 'In memory of Harold Holt, Prime Minister of Australia, who loved the sea and disappeared hereabouts on 17 December 1967.'