Fascinating Historical Facts - Mornington Peninsula
Moorooduc Quarry - Mount Eliza
The Moorooduc Quarry was established in 1887 by a Mr. David Munro. In 1888 a railway line was built from the quarry to Moorooduc Station. Stone and ballast was transported from the quarry for the construction of a railway line between Baxter and Mornington.
The rock was mined by using explosives, then transported in small carts called "dobbin carts" and taken to a steam powered crusher that was fuelled by locally cut timber. Once the rock was crushed it was loaded into larger wagons and transported to Moorooduc Station.
In 1923 the Frankston Shire Council purchased the quarry and continued to mine the site using the stone for railway ballasting, road construction and building. An electric crushed replaced the steam powered one in 1927.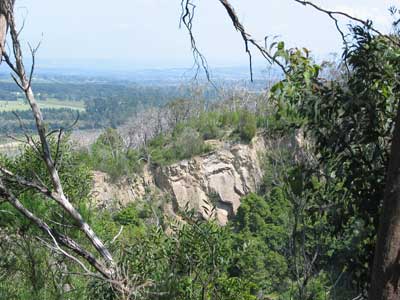 The quarry wall and view over the Moorooduc Plains
The stone was used as features in some houses in Gulls Way at Daveys Bay. Sir Keith Murdoch used the granite in the construction of stables and garden walls at his property "Cruden Farm" in Langwarrin.
The quarry was closed in 1961 due to flooding and over time became a popular swimming hole for locals. The local community transformed the site into the Moorooduc Quarry Flora and Fauna Reserve.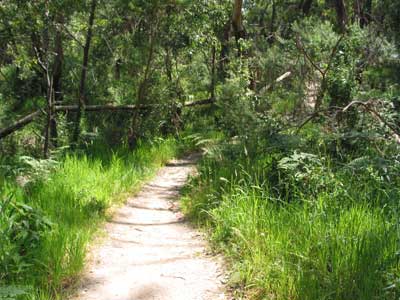 The track is not very wide and is steep in places. The bush is full of bird
life. This area was once abundant with Koala's and other native wildlife.
In 1986 the reserve had its 5 minutes of fame when it was used for the movie "Frog Dreaming" starring Henry Thomas.
There are several walking tracks throughout the reserve, one with remains of one of the stone crushers that was used in the quarry. Other recreational pursuits the reserve is used for include rock climbing and abseiling.

Looking down at the lake from near the lookout.
Native wildflowers and grass are abundant in the reserve along with 45 different species of birds. The lake is the home to a number of waterbirds and the odd Koala can sometimes be seen in the Eucalyptus trees.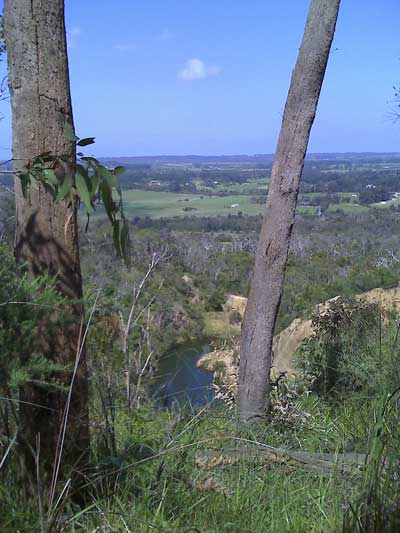 The lake and the rural view from the top of the quarry. Simply stunning!
The circuit walk is 1.7 kilometers. It is quite steep in places and the track is not the best. If you want to get to the lookout without the steep climb, I would suggest either starting the walk from Allison Street or Canadian Bay Road. Either way is a short distance to the lookout although Canadian Bay Road is the nearer of the two, but you may miss some of the awesome views.