Fascinating Historical Facts - Mornington Peninsula
Tanning Pit - Jacks Beach Crib Point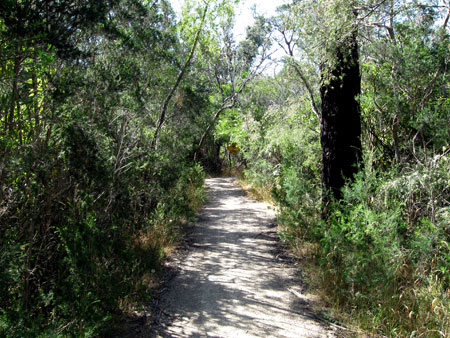 The walk to the beach from the car park is quite pretty and nicely shaded
John Alexander Jack purchased land at what is now known as Jacks Beach in 1908. He and his wife moved there from Seymour, north of Melbourne. They had 14 children including twins Leslie (Blinker) and Hector (Biddy) who became fishermen in Western Port Bay. The brothers erected a rough timber jetty at Jacks Beach where their boats were moored. They also built the tanning pit to soak their nets, twine, rope and chord fishing lines to preserve them. The pit is built up as a mound and lined internally with cement.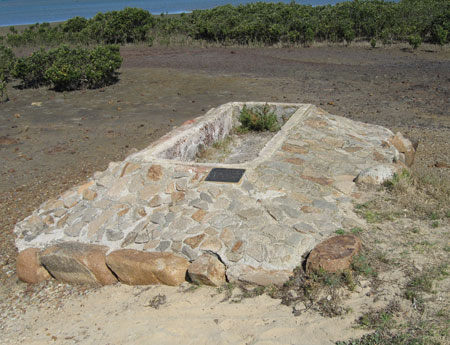 The Tanning pit used by the Jack brothers in the early 1900's
There is a plaque on the pit which says 'This trough was used by the twin brothers Blinker and Biddy Jack to tan their fishing nets and lines which were made of cotton. Tanning was dome by boiling wattle bark before soaking the nets in the boiled mixture. The Jack family lived at the entrance to this reserve at the turn of the century.'

Little remains of the jetty built by the Jack brothers
The process of tanning was done by firstly stripping bark from the wattle tree. The bark was then dried and boiled in drums of water over fires on the beach. The liquid from the drums was poured into the pit and the fishing nets and ropes were placed in the pit to soak up the brown liquid. The nets were then strung out along the jetty to dry. This was done every year to keep the equipment in good order.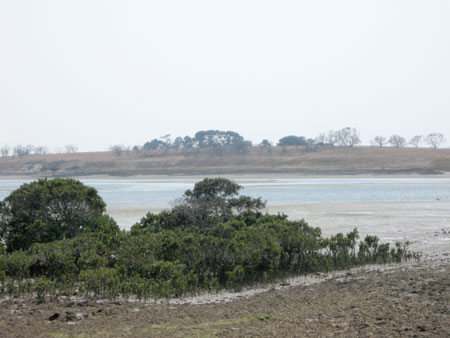 Sandstone Island
Jacks beach is located along Woolleys Road of Stoney Point Road. When Woolleys Road varies to the right, you will find Jacks Beach car park on the left at that corner. A short walk will take you to the beach where the tanning pit is along with evidence of the old jetty. The island closest to you on the left is Sandstone Island. Near the car park is another track which is the start of the Bittern Coastal Wetland Boardwalk that finishes at Hastings 3.5 kilometers away.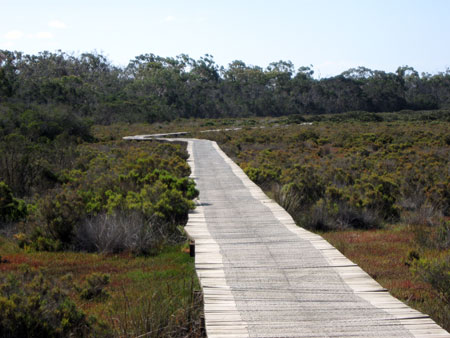 The Bittern Coastal Wetland Boardwalk that starts at Jacks Beach and ends at Hastings