Fascinating Historical Facts - Mornington Peninsula
Foxey's Hangout
Corner Balnarring & Tubbarubba Roads Merricks North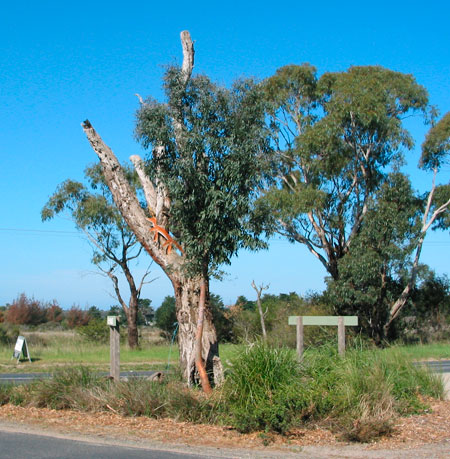 The old gum tree known as Foxey's Hangout
Foxey's Hangout is located at the corner of Balnarring and Tubbarubba Roads. The corner has been known as Foxey's Hangout since the late 1930's. The name was coined by neighbouring property owners when two trappers, Phillip (Jack) Johnson and Lou Connell used a conspicuous gum tree at this junction to separately display their catches. Johnson, a Tasmanian, came to live in the area in 1936. He made a living working for a local landowner, Herb Downward trapping foxes, for which a bounty was paid. Friendly rivalry sprang up between him and Connell as to who caught the most foxes. Garry Downward, another local, checked the tree each day to adjudicate. The winner was announced at the end of each year.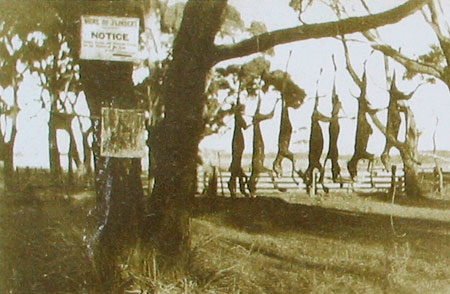 Foxey's Hangout in the late 1930's
This site became a local curiosity and landmark. Jack continued to hang foxes from this tree until his untimely murder in 1946. Friends and neighbours later revived the custom and maintained the site. The hanging practice gradually died out over the years.
Today both Jack Johnson and the old gum tree have passed on but the stories refuse to die. The tree branches are adorned with sheet metal fox profiles as symbols of the real fox carcasses, which hung there in the 1930's. 'Foxey's Hangout' is now recognised as an historic site on the Mornington Peninsula.