Historical Facts - Mornington Peninsula
Bushrangers at Cape Schanck

Bushrangers Bay at Cape Schanck where the notorious pair of Bushrangers landed
Henry Bradley joined the gangs of pick-pockets in the City of London in the 1800's. He was caught and transported to Norfolk Island.

Patrick O'Connor claimed he originally arrived in Adelaide a free immigrant but was subsequently convicted of a felonious offence and transported Norfolk Island, the notorious prison settlement.

It was there that he met up with Henry Bradley.

After leaving Norfolk Island, they worked as 'ticket of leave men' on separate farming properties near Launceston, Tasmania. 'Ticket of leave' was granted before the expiration of a prisoner's sentence. It meant they were free to seek employment under a master or to seek their own work. They were not allowed to leave the district and were required to report to the local resident magistrate once a month.

According to an article published in the Launceston Examiner newspaper, at the time they were both receiving high wages and left their employment without a cause. The pair escaped on the 14th September 1853 and as they travelled north to Circular Head on the north coast of Tasmania, proceeded to pillage workers huts and farmers residences.

On one of their raids they visited a residence owned by Jonathan House where they acquired a double barrelled gun before moving to the neighbouring residence of John Sparks. There they tied up the whole family and confiscated a second double-barrelled gun.

A newspaper reporter at the time claimed that after visiting another farm they went back to the residence of Mr Jonathan House with the intention of killing him and stealing a large sum of money. Unfortunately all they got was five shillings (50cents). Mr House managed to escape but Alfred Phillip, a relative of Mr House, was killed instantly when O'Connor fired both barrels of his gun.

Before reaching Circular Head on the north coast of Van Dieman's Land they called in at several properties, ordering a farmers wife to make them breakfast and stealing a gun and provisions from another. It was during this journey they shot a constable through the arm. He managed to escape into the scrub with a companion to avoid more injury.

At Circular Head on September 15, 1853 they forced their way aboard the schooner Sophia, anchored in the River Inglis near Wynyard and forcefully persuaded the captain and his crew to sail for Port Phillip.

Later, the Mayor of Melbourne who was a member of the bench at the Police Court accused the captain of cowardness when he was tried for bringing felons into the colony. 'Well Captain Bawdy you have been guilty of the most cowardly act that ever I heard of. That nine seamen should allow two scoundrels to act in this way is almost beyond belief.'

On Monday September 19, 1853, , Bradley and O'Connor, landed near Cape Schanck. Two crewmen from the Sophia were forced to row the men ashore at the place now known as Bushrangers Bay.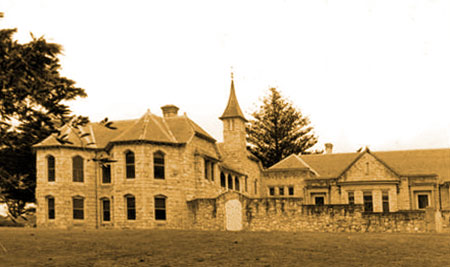 John Barkers property 'Barragunda' at Cape Schanck
Their first stop was Barragunda, a property at Cape Schanck owned by brothers John and Edward Barker, where they forced two employees, Samuel Sherlock and Robert Anderson to give them food and a stock of bullets. They then started traveling in a northerly direction. They stopped at Alexander Balcombes run, The Briars at Mount Martha near Mornington, where they plundered but shed no blood. As they travelled further north towards Melbourne they visited several farms where they concocted stories to obtain provisions.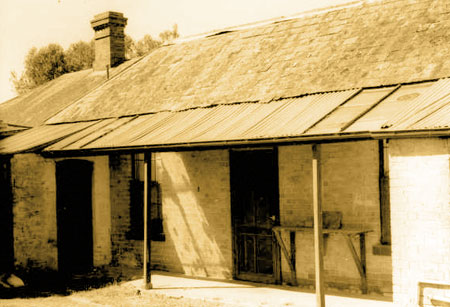 Alexander Balcombes homestead 'The Briars' at Mount Martha

On September 23, 1853, the pair arrived a property near Brighton owned by John King. Bradley and O'Connor entered the house, tied up the owner and his son, and then proceeded to rifle the place of all valuables. They also dressed themselves in two of Mr Kings suits.
Wanting horses, they forced Mr King's eldest son to a paddock where an employee, Mr Howe was ploughing. When Mr Howe was instructed to unharness the horses he thought they were joking and told them they should wait until dinner time. As a result O'Connor shot Mr Howe. He died a few days later despite the attention of Drs Barker, Grieves and Wilmot, who performed a traumatic operation to amputate Howe's injured arm. Leaving a bleeding Howe, Bradley and O'Connor stole the two horses and headed towards Prahran and Richmond. The news of their escapades caused the Colonial Secretary's Office to offer a reward of two hundred pounds for their apprehension.
After a tip off, five troopers started out for Gisborne a town north west of Melbourne near Mount Macedon. Here, another two, Charles Nicholson and Cadet Thompson joined the troopers in their hunt for the bushrangers. The group continued their search travelling to Carlsruhe and Five Mile Creek near Kyneton, but again without success. They then turned north and headed towards Kilmore where they found eleven men had been tied up at Cain's Station by the two bushrangers who had spent the night in a shepherd's hut there.
As they were releasing the eleven men one spied the bushrangers, Bradley and O'Connor, thirty feet away. Shots were fired and Cadet Thompson was hit in his left chest. The shot passed through his body and became lodged in the wall behind him. Bradley and O'Connor made off. Unfortunately the sound of the shooting spooked the troopers horses and they fled, so the troopers were unable to continue the pursuit.
Collecting fresh horses from Mr Cain's property, Sergeant Nolan, three constables, Dr Pearce and Trooper Ostler went to investigate the report that the two bushrangers had stolen a tent and provisions. Soon into the journey, the party came across four men, two being the wanted bushrangers. Bradley and O'Connor turned and fired. The pursuing party returned fire but without effect. In the ensuring scuffle O'Connor was struck with a sword and was apprehended by Constable Nicholson. Bradley resisted until Trooper Ostler threatened to blow his brains out unless he surrendered.
The two bushrangers were escorted back to Melbourne where they were tried and sentenced to death by hanging. On the 24th October 1853, Henry Bradley and Patrick O'Connor were hanged in Melbourne, only forty days after committing their first crime together.