Fascinating Historical Facts - Mornington Peninsula
The Shipwreck of the SS Cheviot - Point Nepean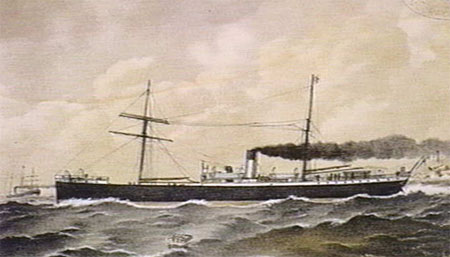 The SS Cheviot in her heyday
The SS Cheviot set out from Melbourne on the 19th October 1887 with cargo of food stuff, wine, metals and sundries, on what was considered a typical coastal journey to Sydney. After passing through the heads of Port Philip Bay around 8pm the ship was in the outer edge of 'the rip', considered to be one of the most dangerous port entries in Australia, when she suffered mechanical problems with the propeller.
A south westerly gale was blowing, so the Captain, Thomas B Richardson, decided not to launch the lifeboats as he considered the sea was too rough so ordered the sails be set immediately. This didn't help and although the anchors were put out the SS Cheviot struck the shore around 9pm.. Distress rockets were sent up and the Queenscliff Lifeboat was sent out but due to the appaling weather conditions could not make it through the heads.
Help didn't arrive until around 4am the next morning. A rocket lifeline and boatswain chair were used to rescue 24 passengers before the ship finally broke up and sank. Some passengers drowned as they were trapped in the fore cabin waiting to be recued. Others were battered to death on rocks.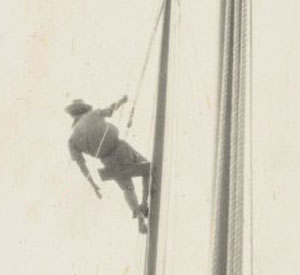 A boatswain's chair similar to the rescue device
The SS Cheviot has the tradgic destinction of being Victoria's worst shipwreck with the loss of 35 lives. Eight of the victims were buried at the nearby Quarantine Station cemetry at Point Nepean.
The SS Cheviot was built at Low Walker in Newcastle upon Tyne, England in 1870. She was 230 feet long and 32.5 feet wide with a 1226 gross tonnage. As well as sails she was powered by vertical direct acting engines built by T. Clark and Co.
W.M. Howard Smith & Sons of Melbourne purchased the Cheviot in 1876 for use in the inter colonial passenger and coal carrying trade. Although the Cheviot had a number of breakdowns and accidents earlier in her life, Lloyds of London had recently re classed her A1 after the refit of strenghtened boilers, overhauled engines and a new propeller.
The Captain was exonerated in any wrong doing by the Steam Navigation Board and was praised for his attempts to save the lives of the passengers and the ship.
The site of the tragedy on the southern side of Point Nepean was to become known as Cheviot Beach. In 1967 Cheviot Beach hit the headlines again as the location of the presumed drowning of Prime Minister Harold Holt.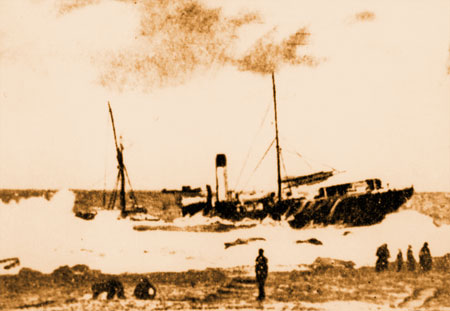 The SS Cheviot breaking up