Fascinating Historical Facts - Mornington Peninsula
Rubra - 7 Watts Parade - Mount Eliza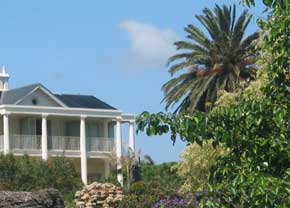 Rubra and it's wonderful garden
Doctor George Teague purchase 11 acres of land from the executors of James Davey's estate, Thomas Watts, in 1884 and built Rubra sometime between 1886-7.
Dr Teague was a resident surgeon at Melbourne Hospital for many years. His wife Mary became the owner of Rubra after Dr Teague was killed in an accident in Swanson Street Melbourne in June 1887.
In 1895 James Paterson, a coal merchant and ship owner purchased Rubra. By now the property had grown from 11 acres to 20 acres.
Paterson installed the deckhouse of a Swedish ship he owned as a tennis changing room. It took 12 draught horses to haul the six ton deckhouse up the cliffs from Canadian Bay!
It appears Paterson bred race horses on the property. One of his horses "Hymettus" won the Caulfield Cup in 1898 and 1901.
James Paterson passed away in 1906 leaving Rubra to his nephew Henry Masterton. He sold some of the land and it once again it became an 11 acre property.
In 1936 Laurence Hartnett purchased Rubra from H.L. Spry Executors, presumably executors of Henry Masterton's estate.
Hartnett was Managing Director of General Motors in Australia but is perhaps most famous for being the developer and driving force behind the Holden motor car.
Some of Hartnett's improvements include 2 green tiled bathrooms with terrazzo floors and lead light glass shower screens. He also installed a devise using a Holden radiator as an evaporative cooling system.
Hartnett was knighted in 1967. He passed away in 1986 leaving his wife Gladys and three daughters.
Rubra is a privately owned property and not open to the public. Please respect the privacy of the occupants and do not enter the grounds.