Fascinating Historical Facts - Mornington Peninsula
Mornington Football Club Disaster 1892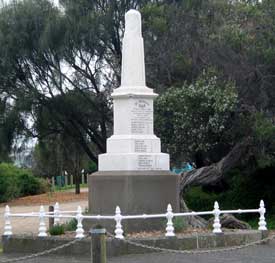 Mornington Football Club memorial
Considered to be one of the worst boating accidents in Victoria's history, the Mornington Football Club Disaster occurred on the night of May 21st 1892 near Pelican Point just north of Mornington.
Fifteen members of the Mornington Football Team set out earlier that day on the "Process", owned and skippered by Charles Hooper, to play a match at Mordialloc. The remainder of the team travelled by train.
The "Process" was a 28 foot long double ended centre board yawl built in 1887. With a foremast of 30 feet and a mizzen of nineteen feet, Mr Hooper rigged the boat with racing sails which he used in regattas.
After the football match, which ended in a draw, the "Process" set off for the 2 - 3 hour journey back to Mornington expecting to arrive between eight and nine pm.
The alarm was raised by Mr Short, one of the team members who returned by train, when the boat had not arrived by 9.30pm. He went to see Joseph Grover who had a brother and son on the "Process". Mr. Grover immediately set off for Mordialloc in his buggy to see if the team had left. Mr Short returned to the pier to keep watch and when Mr Grover returned at 3am, they went to Reverend Caldwell's house to inform him as he had 3 sons on the Process.
At 10.30 am the following day two fishing boats found the partially submerged "Process" off the reef at Pelican Point. Only 4 bodies were recovered along with and oar, some sails and several pieces of clothing.
A monument was built at the corner of Main Street and the Esplanade, Mornington, in remembrance of the Mornington Football Club members lost at sea.