Fascinating Historical Facts - Mornington Peninsula
Moondah - 60 Kunyung Road - Mount Eliza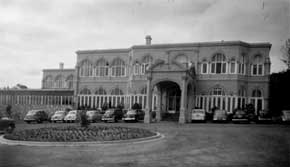 Manyung Hotel in the 1950's
Photograph courtesy State Library Victoria
Moondah, built in 1888 for James Grice was an opulent 42 room Victorian Mansion with beautiful gardens and a vineyard.
The gatehouse is very similar in design to the gatehouse in Parramatta Park in Sydney. It is believed this was used as a basis to building Moondah's gatehouse.
When built, Moondah had a golf course, tennis court, croquet green and polo field for the entertainment of visitors.
Sir Reginald Ansett purchased Moondah in 1947 and restored the building into a 5 star luxury hotel. This he called Manyung Hotel. It was the most luxurious hotel on the Mornington Peninsula.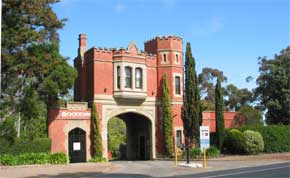 Moondah Gatehouse (2008)
Ansett sold Manyung Hotel to the Australian Administrative Staff College in 1957. It is now run as the executive training centre for the college.
The balance of the Moondah was bequeathed to charity on the passing of Lady Ansett in 2003. The trustees for the estate wanted to subdivide the 32 hectare site claiming they could generate a potential 40 to 60 million dollars to be donated to children's charity. However, the Mornington Shire Council had different ideas. They say it is "extremely unlikely" that the estate will be subdivided as it is considered the green belt between Mount Eliza and Mornington and it will remain so! For once I agree with council!
Moondah is a privately owned property and not open to the public. Please respect the privacy of the occupants and do not enter the grounds.