Fascinating Historical Facts - Mornington Peninsula
Manyung - 1225 Nepean Highway - Mount Eliza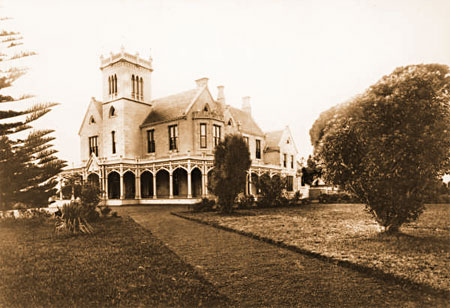 Manyung around the late 1890's

Richard Grice purchased 279 acres from William Robertson in 1860. In 1863 he built Manyung, a magnificent mansion on the property near Sunshine Beach.
Francis Gillett is believed to have designed Manyung. He owned the property Sunshine to the south of Manyung. Richard Grices son James built Moondah in 1888 to the north of Manyung.
Grice was one of Australia's largest pastoralist having large land holdings in Tasmania, New South Wales, Queensland, South Australia and Victoria. He had other business interests including Grice, Sumner & Co, at the time, one of the oldest and largest mercantile trading companies in Australia.
Richard Grice passed away in 1882 leaving the estate to his wife and 7 children. Manyung was sold in 1908 to Charles Campbell. In 1917 a Mr. W. Cove was the owner and by 1920 it was sold to Thomas Baker. The next owner was Norman Myer, owner of well known Myers Department Stores. He purchased Manyung in 1946 and changed the name to Norman Lodge. It was used by his employees as a holiday lodge.
When we inspected Manyung, we found the Gatehouse still in use but run down. The vineyard was over grown and untidy, especially when compared to it's neighbour Morning Star.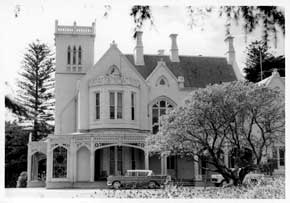 Norman Lodge in the 1960's
Photograph courtesy State Library Victoria
Norman Lodge is a privately owned property and not open to the public. Please respect the privacy of the occupants and do not enter the grounds.