Fascinating Historical Facts - Mornington Peninsula
The First Australian Pan Pacific Scout Jamboree - Frankston 1934-1935
The first Australian Pan Pacific Scout Jamboree was held in Frankston from 27th December 1934 to 13th January 1935. This was the first international gathering of Scouts outside of the United Kingdom and the only Australian Jamboree attended by the founder of scouting, Lord Robert Baden-Powell.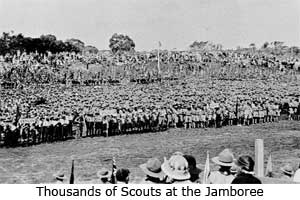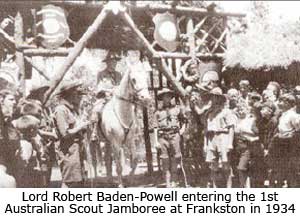 Officially opened by the Governor General Of Australia, Sir Isaac Isaacs, it was attended by over 12,000 scouts from Australia, Belgium, Canada, Ceylon, England, Fiji, France, Holland, East Indies, Hong Kong, Hungary, India, Ireland, Java, Japan, Malaya, Nauru, New Zealand, Scotland, South Africa, United States of America and Wales.
Throughout the duration of the Jamboree there were over 12,000 Cubs, Girl Guides and Brownies as well as 62,000 members of the public pass through the gates.
The Scout Jamboree was located between Kars Road and Overport Road, South Frankston. The 280 acre site was a natural amphitheatre surrounded by tree covered hills and gullies and offered easy access to the beach. It's elevated position provided panoramic views of the surrounding sea and mountains. At the entrance, a Malaysian Arch was built. This was later transferred to Beauty Park, but unfortunately is no longer there today.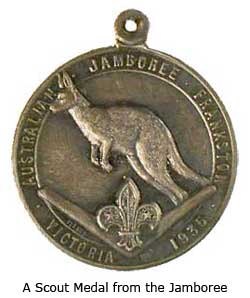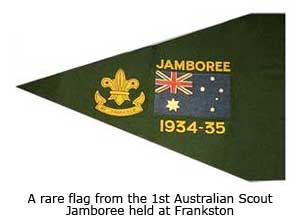 Lord Robert Baden-Powell said " There is a great arena which looks as though nature had intended it for the job, a flat, circular plain surrounded by sloping hills. On these, grandstands have been erected for thousands of spectators, and loud-speakers have been set up so that all can hear what is going on and can listen to the speeches of the great men who come each day to review the boys and give them a word or two of cheer"
In February 2008 the last remaining grandstand from the Jamboree was destroyed by fire. Now the only remaining memory of this incredible event is a small park called Jamboree Park , located at the end of The Heights in South Frankston . This is located in the area where the Jamboree was held.