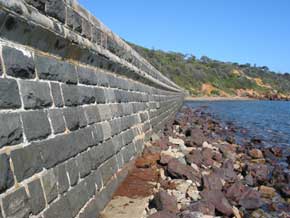 Impressive man made sea wall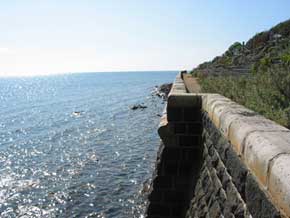 Wall would have been a major project in 1862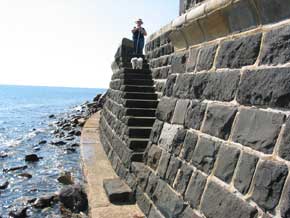 Di & Jak on steps leading down to the water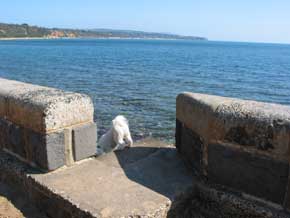 Bums up! Jak exploring the area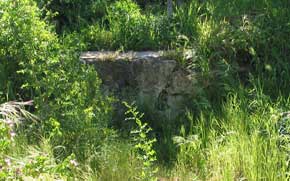 Remains of some building on the hill
A report by Government Geologist A.R.C.Selwyn in 1854 said that the limestone nodules found on Fossil beach "might be found highly valuable for making hydraulic cement". It appears that as a result of this report, a local architect James Robertson was encouraged to established the Patent Septaria Cement Company in 1861 at Fossil Beach.
In October 1861 the Patent Septaria Cement Co. called for tenders to supply machinery and grinding stones along with kilns, tanks, a jetty and sheds, plus 500 tons of firewood. The Argus newspaper hailed the cement works as a "new enterprise" in August 1862. The first shipment of lime from Fossil Beach was sent to Melbourne in October 1862. In November 1862 The Age newspaper claimed that the cement had "proved itself to be of great quality" and it was being used in the construction of the Bank of Victoria building in Collins Street, Melbourne.
However by October 1863 the Patent Septaria Cement Co had failed and was listed for the last time in the stock market columns. According to the Geological Survey of Victoria 1864, Robertson had failed to investigate the exact properties of the septaria before embarking on his venture. The septaria at Fossil Beach apparently contained too little soluble silica to make it commercially acceptable.
Archaeological excavations done in the 1970's by William Culican and John Taylor found the remains of the 19 foot diameter washmill with connecting settling pans, below ground tanks, a well, kilns - one with the brand name Christie Wallyford Brickworks Scotland, and a sedimentation channel. There was evidence of huge trenches dug into the cliffs for the retrieval of nodules.
Today little remains of this enterprise. The Mornington Shire Council has cemented over one of the kilns for use as a picnic area and a toilet block has been built where the washmill and settling pans once stood. Over the years earth subsidence and plants have hidden a lot of what may have remained of the Patent Septaria Cement Co.
On our visit to Fossil Beach we found a few ruins and evidence that industry once survived there. Perhaps the most interesting is the sea wall. It's most impressive! By following a couple of paths we found some of the ruins. What they were exactly, is anyone's guess! Behind the toilet block is evidence of either the well or below ground tanks. We had a lot of fun exploring around this area. Plus, the views are amazing.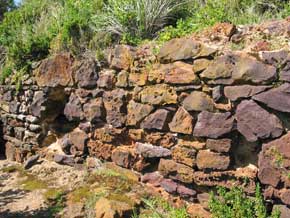 More evidence of industry on the hill