Fascinating Historical Facts - Mornington Peninsula
Daveys Bay - Frankston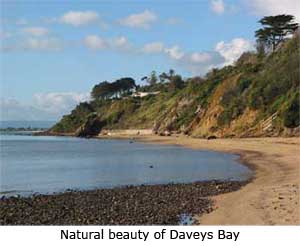 James Davey was the first permanent resident of the area after purchasing a "squatters permit" for £55 in 1846 for 640 acres of coastal land. He built a jetty at the western end of Davey's Bay where he could load his ketch to take his produce to the Melbourne Markets. He had a wire rope and sling that was used for lowering his produce to the jetty from the cliff tops above. Daveys built 2 houses on the hill top. The first was called "Marysville" and later he built a larger residence called "Denistown".
In 1903 local residents formed the Davey's Bay Yacht Club and secured a 150 year lease on some beach front land and started building a club house. This was opened in 1909. A new club house was built in 1959 which still stands today.
In 1921, The Frankston Standard, a local newpaper described Daveys Bay as the " Mediterranean of the Southern Hemisphere". This was part of a series of articles written about the "local beauty" spots. About the same time a film was made and shown in Melbourne Cinemas promoting "Beautiful Frankston". This described the "idealistic solitude of Daveys Bay ", " Seaford 's perfect beach" and "Frankston's rocky coastline." It described the marvelous "seascapes and landscapes", the fine residences and the "silvery placidness of the water". Most of this still holds true today!
The Brooke's Outdoor Dance Pavilion was built on the top of the cliffs over Daveys Bay in the late 1920's. This proved to be a favourite spot for "romancing" and was only a short stroll from the beach albeit an extremely step stroll!
Today, at the end of Gulls Way is a new wooden stair way leading down to Daveys Bay . It certainly is a place to experience "idealistic solitude"!