Historical Facts - Mornington Peninsula
Collins Settlement - The Journey - Taken from original journals and notes of John Pascoe Fawkner and Nicholas Pateshall

HMS Calcutta and the store ship Ocean in the background
HMS Calcutta, a war ship purchased by the Royal Navy was provided to carry prisoners and settlers to Port Philip Bay. She had been an East Indian ship of 1200 tons and carrying 50 guns. She was commanded by Captain Woodruffe with a sloop of war's crew of sailors and marines. This you will bear in mind was in the time of the short peace of Amiens made in October 1801.
My Mother, Father and sister came on board HMS Calcutta on the 10th February 1803 and although we were hurried on board we finally left England on the 25th April 1803. A period of 10 weeks and upwards was wasted on shipboard. We were told that no feather beds would be allowed on board and thus were distressed and needlessly inconvenienced on the passage and afterwards for there was no such order on ship board to prevent bringing them.
By the middle of April all the stores were on board. The Prisoners, their wives and families, the settlers also were all on board - only waiting for the 'Ocean' storeship. I may here remark the 'ocean' was a very very dull sailing craft.
We put to sea on 25th April 1803. We had scarcely got into blue water before gross immorality in high places broke out, the which conduct has a very injurious after effect in Van Diemans Land. The Governor David Collins had a wife and family in England. He left them behind again as he did when he first went to Sydney and the ship was not out of sight of land, before he took for his paramour one of the prisoners wives, Mrs Hannah Power who was accompaning her convict husband Matthew to Port Philip. We found some 2 years after his Sydney wife sent him a son and daughter. Thus the polygamist Governor had three wives and eventually a fourth and three families. His example was followed by others and even the parson was compromised.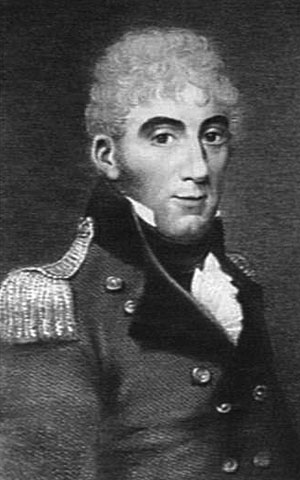 Lieutenant Governor David Collins
We steered for Teneriffe and refreshed there and also at Rio de Janeiro and then finding that the Calcutta with topsails lying on the caps could outsail the Ocean with all her sails set. It was resolved to part company and Capt Mertho of the Ocean was directed if he lost sight of the Calcutta to make the best of his way as directed as possible to Port Philip. The Calcutta then pushed on for the Cape and we anchored in due time in Simons or Fake Bay
On 18 May a declaration of war between France and Britain was laid before the French Parliament. On 22 May 1803 the First Consul suddenly ordered the imprisonment of all British males between the ages of eighteen and sixty who were in France, trapping many travelling civilians.
News of the war arrived whilst we were in Port and the Dutch Port Admiral demanded of Capt Woodruffe the surrender of himself crew and his ship. He sent a true Jacks tars answer. It was simply 'come and take us!' Our 50 guns were chiefly in the hole (as we left England during the peace of 'Ameins') But all hands were piped up and the 2 masters mates Messrs Gammon and Buick were sent down amongst the prisoners to invite such of themas knew any thing of fighting to join the sailors and marines and all those who had been either sailors or soldiers, Volunteered. By the time that the ship had got into fighting order the Dutch Admiral had changed his mind and sent word that as the shipwas loaded with prisoners he would not capture them to burden his country. We then pushed on for Port Philip Bass Strait.
On the 9th or 10th October 1803 we entered Port Philip and found the Ocean storeship at anchor. Capn. Mertho of the Ship Ocean came on board and informed us that he had arrived but two days before and that since he had left the Coast of South America he had neither seen Land or Ship but had as well as ourselves experienced very bad weather. His crew and passengers were in a perfect state of health. When the Ocean entered Port Phillip they were deceived in the same manner as ourselves with respect to the surf across the entrance so that she stood off and on for two days not daring to approach it and at length sent a boat first to sound.
The Lt Governor a marine officer being of the nature of a round peg in a square hole, instead of causing survey of the whole bay in order to find the most elegible site for a town sent a gang of men ashore to clear a place to erect tents for the whole population on a narrow neck of sandy land about 4-5 miles within the heads from Point Nepean.
Sources of information include 'No Place for a Colony' by Richard Cotter, 'Mornington iin the wake of Flinders' by Leslie Moorhead, The logs of the Lady Nelson, 'A Voyage to Establish a Colony at Port Philip in Bass's Strait On the South Coast of New South Wales, in His Majesty's Ship Calcutta, in the Years 1802-3-4' by James Hingston Tuckey, ADB and other sources