Historical Facts - Mornington Peninsula
Collins Settlement - The Settlers Graves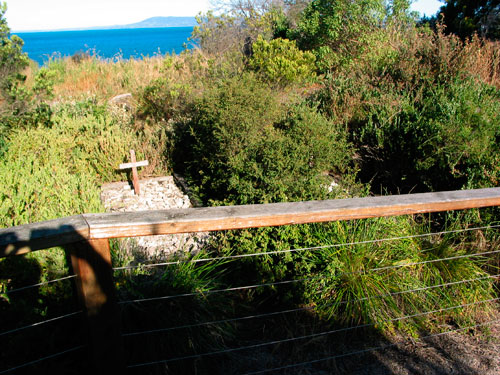 Five graves are at the Collins Settlement site but it is doubtful they contain members of the original settlement
At Sullivan Bay where David Collins established Collins Settlement in 1803 are 5 nameless graves. According to Leslie Moorhead's book, Mornington in the wake of Flinders, these five nameless graves are believed to hold the remains of the Collins party.
However, historian Richard Cotter who wrote No Place for a Colony says It is unlikely that the so-called early settlers graves date back to Collins settlement. The graves, on the balance of probabilities date from a later period. They were not marked in their present location in maps from 1803-4, David Collins would hardly have had bodies buried so close to his tent or hut, burial grounds would normally have been located near a church and services conducted at the Western Sister, also known as Church Hill and most of the settlers who occupied the area from about 1839 thought the graves followed their arrival.
Furthermore he says when the land at the eastern end of Sullivan Bay became freehold in 1875, a pathway from the government road (now Legget Way) to the graves and a small surrounding area were preserved as crown land. The graves were marked out using timber, probably barrel staves. After 1886 the graves were cared for by members of the Meaden family who had moved into the district in 1886. A Brush fence was built around the graves and hardwood planks replaced the staves. In 1906 Mr. F Meadens and the local Presbyterian minister, Mr. J Anderson, created a graves committee and raised money from the public to build a fence around the graves and along the pathway to the government road. The Leggett family also cared for the graves, covering them with shells, clearing undergrowth and erecting a small monument, which set out some of the history of the site.
Sources of information include 'No Place for a Colony' by Richard Cotter, 'Mornington iin the wake of Flinders' by Leslie Moorhead, The logs of the Lady Nelson, 'A Voyage to Establish a Colony at Port Philip in Bass's Strait On the South Coast of New South Wales, in His Majesty's Ship Calcutta, in the Years 1802-3-4' by James Hingston Tuckey, ADB and other sources