Historical Facts - Mornington Peninsula
Collins Settlement - Approval to relocate to Van Diemans Land
In the first few weeks of settlement at Sullivans Bay, it become clear that Lieutenant David Collins and his party faced four main difficulties. There was a serious shortage of fresh water, the soil was poor, naval supplies in the area were not plentiful and entry and exit from Port Philip Bay through the rip was so difficult that safety was reached only after dangerous sailing.
Although he had authority to move to a different site, Collins was unwilling to leave without the approval of Governor King in Sydney. On the 6th November he sent William Collins and 6 volunteer convicts John Ronaldson, Urias Allender, Christopher Forsha, William Thomas, James Price and David Wakefield, all of whom received conditional pardons, to Port Jackson in the Calcutta launch, a six oared cutter.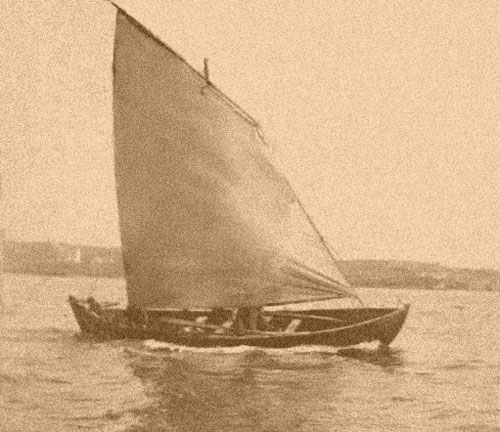 A six oared cutter similar to the one used to sail from Port Phillip Bay to Port Jackson
It was fortunate for this group of men that the Ocean sailed from Port Phillip Bay for China 10 days later, before returning to England. The Ocean came to the assistance of William Collins party, which was threatened by a dreadful sea 60 miles short of Port Jackson. Captain Mertho of the Ocean towed the cutter into Port Jackson.
In correspondence carried by William Collins, Lieutenant David Collins advised Governor King of his expeditions safe arrival, described the conditions around Port Philip Bay in unflattering terms and requested Governor Kings blessing for his plan to relocate to Van Diemans Land.
King wrote that it certainly appeared that Port Philip Bay was unfit to establish a permanent settlement and approved David Collins intention to go to Van Diemans Land. Governor King rehired the supply ship Ocean for a further 4 months to assist in moving the colony.
On 12 December the supply ship Ocean returned to Port Philip Bay with the news that Lieutenant David Collins wanted to hear. On the 16th December 1803, David Collins officially told the settlers at Sullivans Bay that they were to relocate to Van Diemans Land. Work began immediately to build a 380 foot long jetty which was to be used in loading the Ocean and Lady Nelson, another ship that Governor King had sent from Sydney.
Sources of information include 'No Place for a Colony' by Richard Cotter, 'Mornington iin the wake of Flinders' by Leslie Moorhead, The logs of the Lady Nelson, 'A Voyage to Establish a Colony at Port Philip in Bass's Strait On the South Coast of New South Wales, in His Majesty's Ship Calcutta, in the Years 1802-3-4' by James Hingston Tuckey, ADB and other sources