Historical Facts - Mornington Peninsula
Cobb & Co Coaches - Mornington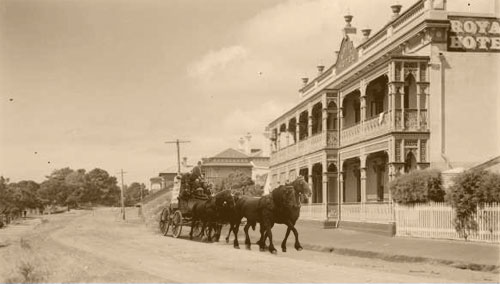 Cobb & Co Coach outside the Royal Hotel Mornington
To enable residents to travel to Melbourne from Mornington by road, Cobb & Co instituted a coach service from the Royal Hotel on the Esplanade to the Albion Hotel in Bourke Street, Melbourne.
The Albion Hotel does not exist anymore but in the 1860's it was the terminus for all Cobb & Co coaches out of Melbourne, and they covered the whole state.
Leaving Mornington at 6.00am and arriving at the Albion at mid day, the coach left on it's return journey at 2.00pm reaching Mornington at 7.00pm.
It was an adventurous journey. The coach, bulging with meat, mail, luggage, bags of chaff etc, would take on an assortment of passengers, the majority of whom were somehow stowed into it's dark interior. Favoured ones sat on the box seat with the driver and engaged in lively banter with well wishers gathered outside the Royal Hotel to see them off.
With the crack of the wipe, the coach and horses lurched it's way along the Esplanade right into Main Street and then along Barkly Avenue and Tanti Street, taking a left turn at the Tanti Hotel, it was soon fast disappearing in a cloud of dust along the rocky road to Frankston.
The driver, apart from being an expert in handling 'the ribbons', was also a wealth of local gossip. His daily advent was eagerly awaited along the track, and his bag was soon crammed with letters and small parcels from the more isolated settlers along the track. In fact he was to many the only link to the outside world.
One of the best remembered local drivers was 'Dick the Coachman', whose real name was Richard Parry. His relief was 'Hellfire Jack', who, as his name implies gave the passengers plenty of excitement for their money! Teams of horses were generally six, although larger and smaller teams were used according to the load.
The first section of the run from Mornington was to Frankston, where the horses were changed, then on to Mordialloc, where fresh horses were again available at the Rennison's Hotel for the final stretch of the journey to Melbourne.
The coaches continued to run until 1889, when the railway to Mornington was opened.