Fascinating Historical Facts - Mornington Peninsula
Cable Station - Flinders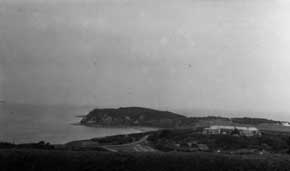 West Head at Flinders showing the Government
Telegraph Office
By the year 1857 telegraph lines connected Melbourne, Sydney and Adelaide. Telegraphic cables to Tasmania were also laid that year, linking Cape Otway, along the Great Ocean Road in Victoria via King Island to George Town, Tasmania. Unfortunately the cable broke and this attempt was abandoned.
The second attempt was made in 1869 to connect Flinders with Tasmania. This was successful and the first message was sent in May 1869.
The cable was operated by the Victorian and Tasmanian Submarine Cable Co. A duplicate cable was laid in 1885. After Federation in 1901, the Commonwealth Government took over the responsiblility for communications, establishing the PMG which took over the operation when the company's licence ran out in 1909. The telegraph cable remained in use until 1936 when it was replaced by telephone cable, using the original route from Cape Otway.
Operating the telegraph was an important local activity, requiring the building of a Government Telegraph Office, a substantial stone and brick building, and a staff and operations house, known as Happy Valley, half way up the cliff.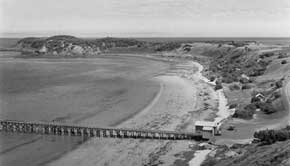 Pier showing cargo shed at the end
The morse code messages were received in a small recieving hut on the beach and decoded by hand. The message were then carried to the staff and operations house, and then on to the Government Telegraph Office. A jetty and cargo shed was built in 1870 to provide improved transport connections to Flinders. Road. Access was also upgraded, especially to Cape Schanck, where the cable that came ashore at Flinders was linked to the cable to Melbourne.
Advanced technology enabled a repeater station to be built on the beach in 1892, allowing messages to be received at the new staff house on the Hastings Road. The new staff house was used for the training of telegraphists. The old staff house, Happy Valley, was used by the Port Authority to house the lighthouse caretaker, Mr Cotton.
When the Cable Station closed, the second staff house became a guest house called Flinders House. It later burned down.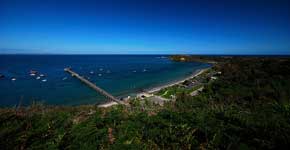 Flinders Pier today showing the cargo shed
relocated to the side of the pier
There are several other buildings around Flinders with links to the Telegraph Station. Barrett, built in 1871 at 119 Wood Street was occupied by William Seagrave, project manager of the cable station. Highbury, built in 1875 at 65 Cook Street was occupied by G. Day, an employee of the company. Both houses were owned by the Victorian and Tasmanian Submarine Cable Co.
Unfortunately today, most of this history has been destroyed and/or lost. The route of the original path linking the receiving hut and Happy Valley has been reconstructed by the local shire council and the pier is still there, although it has been rebuilt and the cargo shed relocated.