Fascinating Historical Facts - Mornington Peninsula
Beleura House - Mornington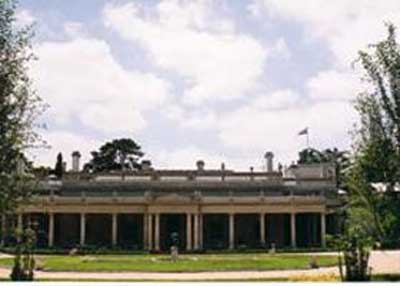 Built in 1863 for James Butchard, Beleura House is an Italian style villa and stands in a commanding position looking over Port Philip Bay at Mornington. James Butchard was a businessman being a partner in Kaye, Butchart & Co a stock and agency company. He had pastoral holdings in Victoria and New South Wales.
Butchard sold Beleura to Charles Edward Bright, founder of Bright Brothers & Co Steamship & General Agents. Beleura was used as a summer retreat by Bright's father-in-law, the Viscount Canterbury, KCB., Governor of Victoria from 1866 until 1873.
The next owner was the Caleb Joshua Jenner. Jenner a businessman, was chairman of Langlands Foundry Co and the first chairman of the Land Mortgage Bank. In the 1870s he was on the boards of the National Insurance Co, the Commercial Bank of Australia and the Land Mortgage Bank. He was a commissioner for the savings banks of Victoria and a member of the Legislative Council of The Parliament of Victoria.
Jenner sold the house to Robert Smith, a pastorlist in 1899. Beleura consisted of 182 acres then. The Smith family used Beleura as a summer house. Robert's wife Jane inherited the property on his passing and later put it up for auction. It was then purchased by George Tallis in 1916. Tallis was Chairman of J.C. Williamson, a theatre company.
On his passing in 1948, Beleura was left to his youngest son Jack who lived there until he passed away in 1996 at the age of 85. Jack Tallis lived the life of a recluse. He was considered a gentleman and a music composer.
Jack Tallis bequeathed Beleura, its contents and the Tallis Foundation, to the people of Victoria.
Beleura can only be inspected by guided tour. This requires making an apointment to visit on selected days only. An entry fee is charged which usually includes morning tea, lunch and bus transfers.