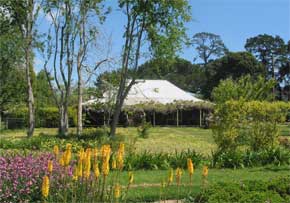 Sage Cottage, once the home of John Sage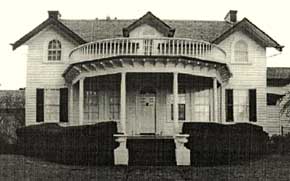 Mulberry Hill - The home of Sir Darryl and Lady
Joan Lindsay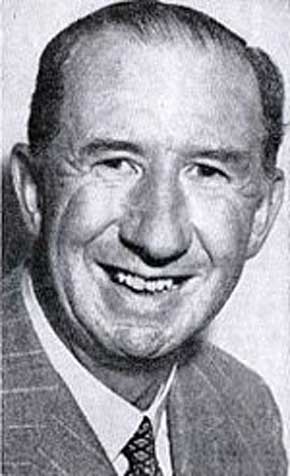 Neville Shute Norway - The worlds most popular author in the 1950's
Originally known as Mornington Junction, Baxter was renamed in 1911 after Captain Benjamin Baxter, the first European settler in the area. Baxter arrived at Port Melbourne from County Cork , Ireland in 1837. He opened the first post office in Port Philip (Melbourne) in 1837. In 1838 Baxter was granted a pastoral lease of 15,000 acres in the Langwarrin / Moorooduc area to run cattle. Baxter's Cattle Station was also known as Carrup Carrup and he owned this run from 1838 to 1860. In 1851 Baxter became the Commissioner of Crown Land.
Baxter spent most of his time in Melbourne taking care of other business interests so he appointed John Sage as overseer to Carrup Carrup. Sage drove the original cattle overland from Port Philip to Carrup Carrup. Baxter returned to Carrup Carrup permanently in 1843. He drained much of the swamp area and started growing wheat which fetched high prices. Benjamin Baxter died at Carrup Carrup in May 1892. His grave is at Frankston Cemetery. His wife Martha passed away aged 94 in January 1906 and was laid to rest beside him.
The township of Baxter began to prosper in the late 1890s when it became well known for it's market gardens and orchards. The Baxter Primary School was built in 1890 and is still part of the school buildings today. The Baxter Railway Station Post Office was opened in 1892 and later became known as the Baxter General Store, the main meeting place of the locals.
Today there are 2 historical homesteads that remain in Baxter. One is Sage Cottage. This was built on Carrup Carrup by John Sage in 1853. Since 2004 Sage Cottage has been owned by Menzies Inc, an organization that offers assistance to disadvantaged children. Located on the corner of Tooradin and Moorooduc Highway , there is a cafe there which is open every Friday and Saturday from 10am - 3pm.
The other homestead is "Mulberry Hill" on Golf Links Road . This was the home of Sir Darryl Lindsay and Lady Joan Lindsay. Sir Darryl was an Australian artist and the brother of Norman Lindsay, also a famous artist. Sir Daryl became the Director of the National Art Gallery of Victoria . His wife Joan wrote the best selling novel, Picnic at Hanging Rock. Mulberry Hill is now classified by the National Trust and is open to the public every Sunday afternoon for tours. An entry fee applies.
Another literary connection to Baxter is British born novelist, Neville Shute. In the 1950's Shute was the worlds best selling novelist. On his arrival in Australia in 1952 he became a land owner in Baxter. One of his novels, "On the beach" was made into a movie and the filming took place at Canadian Bay, Frankston and Philip Island.