Fascinating Historical Facts
Mornington Peninsula Arthurs Seat Chairlift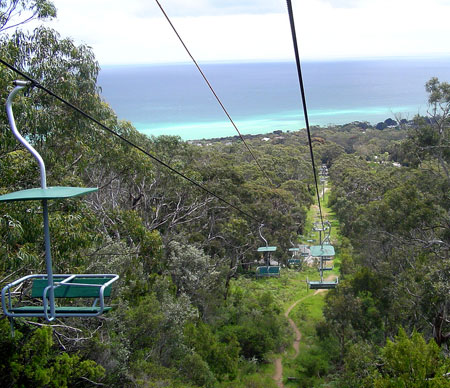 The Arthurs Seat Chairlift
Dr Vladimir Hayek, a Czech Engineer built the Arthurs Seat Chairlift in 1960. It was officially opened on the 21st December 1960. The chairlift was almost a kilometer in length and rose 225 vertical meters on it's ascent from the entrance to Arthurs Seat State Park to the summit 305 meters above sea level.
The chairlift was a 20-minute journey of magnificent scenery and awesome views. On a clear day it was possible to see Cape Otway, You Yang Ranges, Dandenong Ranges, Mt. Donna Buang and even the ski slopes at Mt. Baw Baw in winter. Port Phillip Bay and heads were in the foreground and offered spectacular views.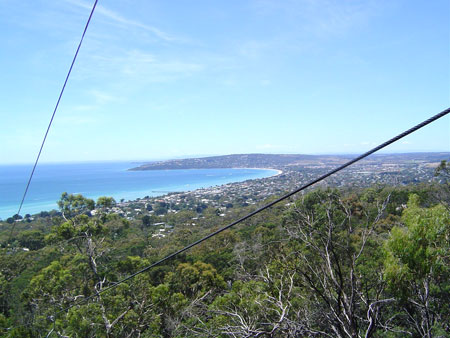 Awesome views from the chairlift
The chairlift was originally powered by a 30HP DC variable speed motor drawing direct current from a 40HP AC/DC generator. This was updated to a 30kw (40HP) 8 pole AC motor with variable frequency power supplied by a Danfoss frequency converter unit. The chairlift travelled at a speed of approximately 0.80 meters per second.
The chairlift operated safely until a series of unfortunate malfunctions started in 2003 necessitating its closure in 2006. On the 4th January 2003 19 people were injured when a supporting pylon collapsed and crushed a car travelling below on Arthurs Seat Road. It took several hours to rescue the remaining 65 people on the chairlift. After all the pylons were replaced the chairlift re-opened in late 2003.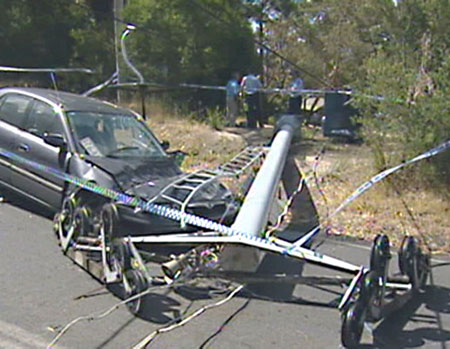 Police investigating the 2003 incident when a pylon collasped onto a car
In March 2004, a 77 year old woman suffered two broken legs when the carriage she was travelling in came loose and slid into the carriage in front.
Finally, on 16th May 2006, 8 people were trapped after the chairlift suffered a mechanical failure. The cable that the carriages are attached to became derailed from the pulleys at the 5th pylon. After the derailment, the cable became caught on the assembly of the pylon. Ultimately four carriages became entangled with the pylon. Fortunately no passengers were in those carriages.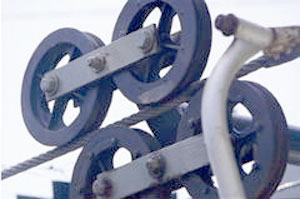 The pulley system that failed in 2006
Worksafe Victoria closed the chairlift pending further maintenance and although the operators of the chairlift carried out maintenance and made improvements, a decision was made in October 2008 to permanently close and dismantle the chairlift. At the time of writing this article, the chairlift has not yet been dismantled and seeing the disused carriages weighted down with sandbags as you drive towards Arthurs Seat serves as a reminder of the fabulous tourist attraction that it once was.