Pelican Pantry is an Award-winning café, and is the pride of the peninsula.

The café was established by the Mornington Peninsula Shire with assistance from community groups to offer training opportunities for people within the peninsula.

Pelican Pantry has proudly trained people from the Mornington Peninsula since its official opening in 2004.

Almost 400 trainees have graduated from Pelican Pantry, securing positions all over Victoria, Australia and the world.
The Pantry's students and full-time employees work together to provide friendly and knowledgeable services to the public while training in hospitality.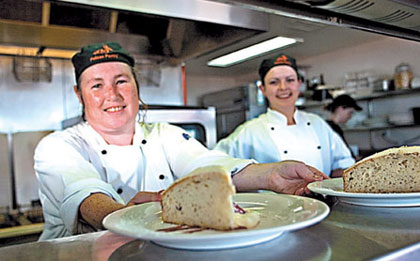 Pelican Pantry has become a well-known training facility for students and young people interested in working in the hospitality tourism industries.
Pelican Pantry works together with 18 partners representing 18 secondary colleges, 19 local education, employment, community service and training organisations to provide this much needed training.

The friendly nurturing environment, friendly customers and beautiful surroundings make the Pelican Pantry restaurant a meaningful and fulfilling working experience.
Hastings Foreshore, 2 Marine Pde Hastings, Vic 3915
Phone: 1300 850 297

Licensed.

Cafe Opening Hours:
Monday - Sunday: 7.30am - 4.00pm
Kitchen Operation Hours:
Monday to Friday: 7.30am - 3.00pm; Saturday & Sunday: 7.30am - 4.00pm

Wheelchair access, accessible toilets, no stairs in public areas, non-smoking